Borehole Equipment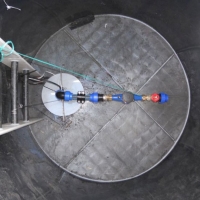 We dril wells and boreholes with a diameter of 120 - 800 mm.
For borehole equipment we use pipelines of different lengths and dimensions with a special connecting system of PVC or stainless steel which are certified as safe for drinking water.
The advantages of the system are easy disassembly design and resistance to high pressures.
The borehole and the well are reinforced with circular concrete blocks, the well are also equipped with stainless steel ladders and lockable hatches.
We install pumps with accessories into the borehole or well and transport water from them to the facility as per customers requirements.