OF Gravity Filter
OF gravity filter with open top is made of stainless steel or propylene. It does not require repairs, coatings or replacement due to wear and tear. The bellows pump for washing the filter is not part of OF and must be purchased.
Leaflet OF Open Filter - 141 kB
---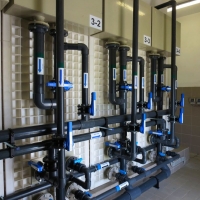 Design:
Filter material (cartridge).
Drainage system with a high density polyethylene (HDPE) sheet.
Inlet for raw water and outlet for treated water.
Washing water and air inlet.
Drains for wastewater outlet including the outflow.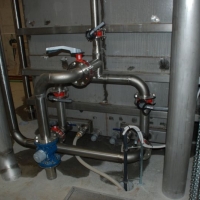 Technical Description:
Cladding: Stainless steel EN 1.4301/AISI 304 or propylen (PPR).
External reinforcement: Stainless steel or propylene profiles.
HDPE sheet: Wide range and stability of air and water flow in all operating conditions and even distribution of air wash and water across the filter surface.
Filter nozzles (drainage system) intermediate bottom
Filter cartridge: Depending on the removed substance, e.g. natural/synthetic silicates or aluminosilicates (requirements for expanded aluminosilicates are regulated by Czech Technical Standard EN 12905 (755705) "Products used for treatment of water intended for human consumption".
Filter washing: With air, water or both air and water with the required intensity.
Washing process: manual and automatic mode.