TVK Filter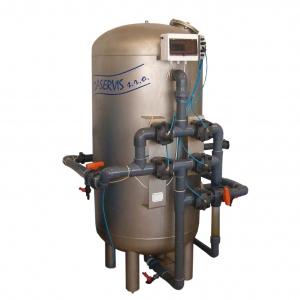 Modifications:
With automatic or manual control.
With different filter fillings: quartz sand (TVK), demanganesing material (TVK S), granular activated carbon (TVK U), deacidification material (TVK O).
With control line wiring in stainless steel for hot water applications.
With control wiring and filter designs adapted for steam disinfection.
With the interstitial space and plastic nozzles (nozzles up to 135 ° C).
For air backwashing or combination of backwashing by air and water.
With a simpler version of automatic control - so called control valve or control head – e.g. Fleck and Siatta.
Usage:
Suitable for filtration of more polluted drinking and technological water without oil.
Removal of various undesirable substances from drinking water such as iron, manganese, aluminum, COD, turbidity, color, odor, ammonium ions, acidity,
pesticide substances, uranium, chlorinated hydrocarbon, arsenic, heavy metals, ozone, chlorine,
petroleum products and other.
Use for water softening.
Technical Description:
Made of stainless steel 1.4301 (AISI 304), including complete interior fittings (without internal plastic parts) and consists of a cylindrical part mounted on adjustable legs, base and filter filling, plastic or stainless steel control valves and valves and manual or automatic control, the surface is blasted with ceramic beads.
Underlying coarse sand layers and filter charges with layers of different grain sizes with a filtering capacity of between 5 and 10 microns (0.005-0.01 mm) at a high filtration rate of up to 20 m/hour (based on raw water quality).
Plastic (unplasticized polyvinyl chloride PVC-U) or stainless steel control valves and fittings.
The cylindrical part has two flange openings - revision (squeezing) and flushing from the filter diameter of 600 mm.
In the automatic design, the TVK filter also includes a Siemens control unit, compressed air supply (compressor), compressed air distribution, water inlet pressure and water outlet pressure gauges, five pneumatically controlled valves, a release and vent valve. The control unit can give instructions to washing pumps, send and receive external instructions for controlling the filter. Wash time, volume or pressure difference.
washing the filter is also possible with raw water without the necessity of air-washing, which, compared to the old types of filters.
TVK filter is not a pressure vessel.