Industry and Construction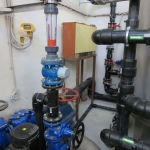 In the industry,
we provide three types of water treatment: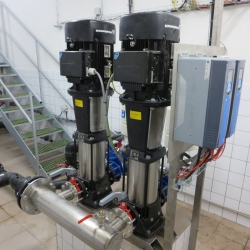 In the construction,
we provide:
Boreholes and wells fitting including shafts, pipelines and pumps with level monitoring.
Transporting and pumping water from the borehole to the water tank.
Reconstruction and construction of water tanks including fittings.
Supply and installation of pipeline systems (stainless steel and plastic: PE, PVC, PPR).
Supply of water treatment technology units.
Implementation of an automatic pumping station (ATS).
Installation of plastic and stainless steel storage in water tanks including fittings.
Supply of stainless steel water tanks complements (railings, ladders, hatches, constructions, wall grommets, suction and inlet baskets).
Measurement and Regulation (MaR) and automation.
Installation of plastic (PVC, PE, PPR) and stainless steel pipelines.
---
1. Drinking and Technological Water Treatment
We do analysis of strengths and weaknesses:
Drinking water from private water supply (more demanding x more economical).
Technological water from the public water supply system (requires raw water analysis to determine the appropriate filtration system according to the amount and size of mechanical impurities).
---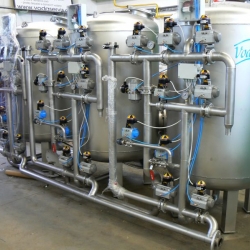 2. Treatment for boiler rooms and hot water systems
We treat the inlet feed water with:
Filtration (removal of mechanical impurities).

Softening (removing limescale).
We treat permanent water circuit with:
Filtration.

Softening.

Chemicals (degasification, alkalinity water treatment, pH stabilization, bacteriological safety).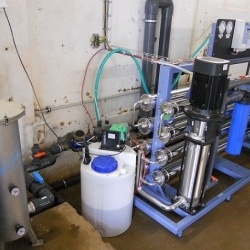 We treat larger hot water systems (e.g. steam boilers) with:
Demineralization.

Reverse osmosis (in case of perfectly demineralized water).

Decarbonisation + free CO2 venting (aeration towers PV).

Softening.
---