RF Bag Filter
RF is a large-volume and all stainless steel filter with inner sleeve (bag) suitable for filtration of less polluted drinking and technological water with an admixture of oils and for mechanical treatment of water from wastewater treatment plant. It is used as a protective pre-filter or as a filter for pressure filtration for industrial applications and for drinking water.
---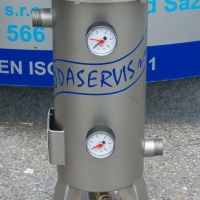 Modifications:
With various filter inserts: softness in the range of 1-800 microns (0.001-0.8 mm), for drinking and technological water, and oils.
Made of more quality stainless steel: e.g. EN 1.4401, EN 1.4541, EN 1.4571.
For hot water up to 120 ° C.
With input and output according to customer requirements: dimensions, flanges/screw threads, top/side.
Self-supporting or installed on the wall.