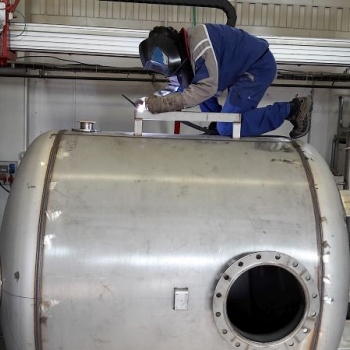 We specialize in the development and production of stainless steel (mostly stainless steel or austenitic steel with a lower carbon content or with the addition of titanium) or plastic (propylene, PVC-U) products for the drinking and technological water treatment.
The products remove pesticides, radionuclides (e.g. uranium and radon), arsenic, iron, manganese, chemical oxygen demand by manganese (CHSKMn), aluminum, chlorides, chlorinated hydrocarbons, sulphates, ammonium ions, nitrates, nitrites, turbidity, hardness, conductivity, ozone and others.
The surface of the pressure filters TVK, RF and SF is modified by abrasive blasting (with ceramic blasting beads), creating an inimitable, monolithic matt appearance. Closed pressure filters through which water flows do not have to meet the criteria for pressure vessels because the air does not circulate in them.
Double welding is carried out using the TIG (Tungsten Inert Gas) welding – it is used on the basic layers and with the addition of material in accordance with Welding Procedure Steps (WPS). The work is carried out by certified welders for fusion welding under the supervision of an experienced welding technologist.
Our products meet strict technical guidelines. They are equipped with a production label, which is marked according to the Ministry of Agriculture Decree No. 409/2005 Coll., On Hygiene Requirements for Products Coming Into Direct Contact With Water And For Water Treatment.

We own an Utility model registered at the Patent Office of the Czech Republic.